To all my fellow Martial Artists,
We are proud to announce this month's Go2 Karate Lifetime Achievement & Recognition Award. This individual is a Martial Arts icon, world renowned mentor, and industry leader that is passionate about helping others grow in the Martial Arts.
I would like to respectfully recognize Grand Master William Clark, a revered 9th Degree Black Belt on his Go2 Karate Recognition Award. Grand Master is the CEO of multiple prestigious martial arts entities, which are all headquartered in Jacksonville, Florida. Notably, he spearheads Warrior X Fit (wxFit), Karate America, Warrior Krav Maga, and Warrior Martial Arts. Renowned for his direct approach, Grand Master Clark leaves a lasting impression in the industry.
Beyond his extraordinary leadership as a Grand Master in the Martial Arts industry, Grand Master Clark is widely recognized for his mentorship and his Martial Arts skill set. He extends his guidance not only in the realm of martial arts but also in the intricacies of business and personal growth while helping others grow while on their journey.
With an unwavering focus, he actively engages individuals, while they develop and improve themselves in many aspects of their life. As a result, he has earned a distinguished reputation as a trusted mentor among martial arts school owners, their staff, and Martial Arts enthusiasts worldwide.
Tracy Lee Thomas
8th Degree
Go2 Karate Recognition Board Member
Founder | Go2 Karate

Clint Robinson
UWTA President
Robinson's Taekwondo
Sacramento, CA
Congratulations to GM Clark on this well deserved recognition.
Rod Bohorquez
9th Degree Black Belt
Rod's Martial Arts
Miami, Fl
Congratulations on Your Lifetime Achievement Award, Grand Master Bill Clark!

It is with great pleasure and utmost admiration that I extend my heartfelt congratulations to you on receiving the prestigious Lifetime Achievement Award from Go2 Karate. Your remarkable journey as a martial artist, instructor, and school owner has been an inspiration to us all.

Your legacy as a top competitor during your younger years has left an indelible mark on the martial arts world. Your passion, dedication, and unwavering commitment to honing your skills have undoubtedly influenced and motivated countless practitioners around the globe. Your achievements as a competitor have earned you the respect and admiration of your peers and students alike.

However, it is your exceptional role as an instructor and school owner that truly sets you apart. Your profound impact on the lives of your students, and the number of instructors you have guided towards success in their own schools, is nothing short of awe-inspiring. Your selfless dedication to nurturing and developing the talents of others has not only enriched the martial arts community but has also empowered individuals to excel in their personal lives.

Your leadership in the martial arts industry has been a beacon of excellence, guiding and inspiring the next generation of martial artists to embrace the values of respect, discipline, and perseverance. Your wisdom and expertise have proven invaluable in shaping the future of our beloved discipline.

As you receive this well-deserved Lifetime Achievement Award, I wish you continued years of prosperity and excellence in your leadership journey. May you continue to be a source of inspiration for all those who aspire to follow in your footsteps. Your contributions to the martial arts world are immeasurable, and your influence will be felt for generations to come.

Once again, congratulations, Grand Master Clark. May your legacy continue to shine brightly, and may your passion for the martial arts continue to guide and inspire us all.
Virgil Davis
8th Dan
Virgil Davis Karate Studio
Covington, Kentucky
Congratulations on receiving a well deserved award Grandmaster Bill "Balls" Clark. We go back many years. It is pioneers such as yourself who have paved the way and inspired thousands of students throughout the years to reach their person best and represent the best versions of themselves. Thank you for your wisdom, leadership, guidance, and inspiration. May you continue to be blessed to share your amazing light. Osu!
Michael Brown
8th Degree Black Belt
Leadership Martial Arts
Fayetteville, NC
Grand Master Clark, congratulations on this well deserved Lifetime Achievement Award! Your training and direction over the years have been responsible for the success of countless martial art studios including mine. Thank you for all you have done for my family and myself. You are a legend, deep bow sir!
Delfino Candia
Master
America's Best Karate
El Paso, TX
Congratulations!
Grand Master Clark: Congratulations on Your Go2 Karate Recognition Award! Your exceptional skills and unwavering dedication have profoundly impacted the martial arts community. You have exemplified the true essence of martial arts, embodying the values of discipline, integrity, and growth. Your mastery of various disciplines and technical and innovative teaching methods have been an inspiration to people worldwide. Once again, congratulations Grand Master!
Denise Morin
5th Degree
Go2 Karate Recognition Board Member
Go2 Karate Editor

I can't imagine one person who has impacted the martial arts industry more than Grand Master Bill Clark. Personally, he's made an impact on me, my students and my business - both inside and outside the walls of my schools over my last 30+ years. It's certainly not just me - at every one of his seminars there are so many people who speak about how much he's impacted their lives. He's transformed both small and large organizations, leaving an indelible mark on their development and success. The bottom line is - when he speaks people either listen or they probably should listen! Receiving the Lifetime Achievement Award from Go2 Karate couldn't be more well deserved! Congratulations Grand Master Clark!
Greg Moody
8th Degree
Go2 Karate Recognition Board Member
KarateBuilt Martial Arts

A well deserved honor. I first met Bill "Balls" Clark well over 45 years ago who was a well known competitor and then kick-boxing referee having officiated several of teacher/associate Jeff Smith's fights. He implemented systems learned from Jeff Smith from Jhoon Rhee Institute and from others into what would grow into the largest organization of schools in the World - the ATA.
And, grew an incredible - professional martial arts chain of his own centered in Jacksonville and throughout Florida. He became a friend and trusted mentor.
I can think of few (if any) living Martial Arts Master who has impacted more students, instructors, and Master instructors than Chief Master Clark.
While at times criticized by some was "commercial" he did in fact create incredibly gifted students and instructors. I traveled to Jacksonville to model his teacher training among other systems, and was welcomed with opened arms and transparent sharing. The reality of critics is that they are unaware of the excellence of his operations or more likely jealous of his success.
My experience is that he embraces all who approach. Never afraid to share his experience and knowledge. In public or private I've never questioned his sincere interest in his students, willingness to share with others who would aspire to learn from his success, or take a minute for a kind word for those who need it.
I wish him many more years of excellence in leadership in our industry that desperately needs many more like him.
Stephen Oliver
9th Degree Black Belt
Go2 Karate Recognition Board Member
Founder Mile High Karate and Martial Arts Wealth Mastery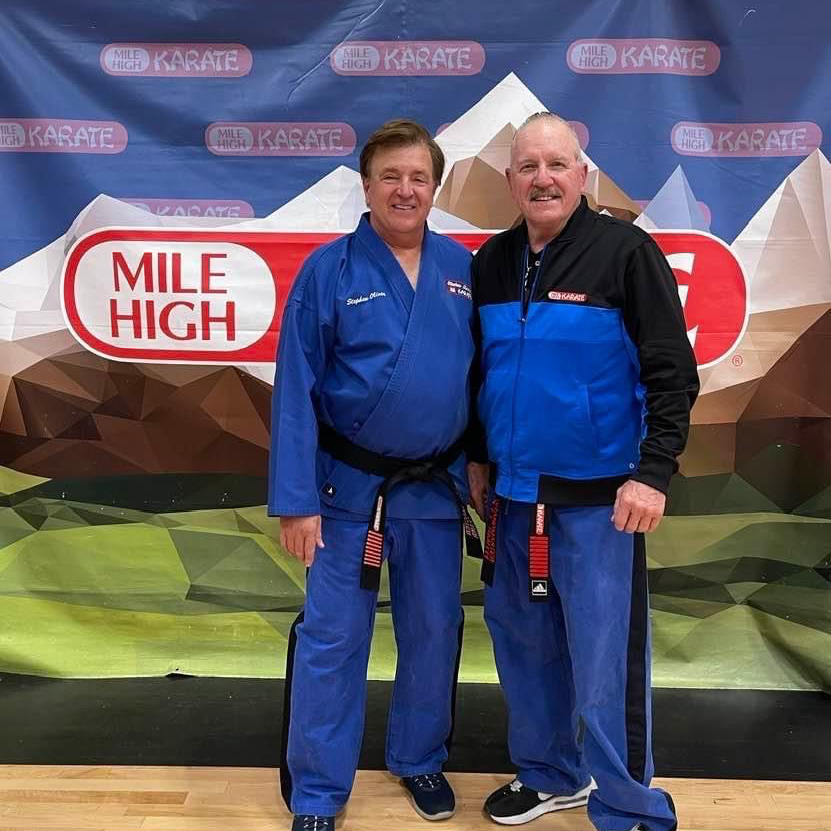 From the moment I met you 38 years ago, you have been a driving force in martial arts. Many times, you have been behind that 8 ball, but you are a survivor.
Congratulations on a lifetime of achievements and I wish you many, many more.
Laurie Peterson
6th Degree
Go2 Karate Recognition Board Member
Senior Counsel